What are ISO tank containers?
ISO tanks are a well-proven, versatile and safe method of transporting bulk liquids across the globe. The intermodal design (suitable for rail, road and sea) means the liquid they are carrying does not have to be transferred at different stages of the logistic chain as it would with road tankers, tanker vessels or rail cars.
Although there are a range of capacities possible, the most commonly found ISO tanks can carry 24-26kl within a standard 20ft frame design. The vessels are generally Stainless Steel, wrapped with a layer of mineral wool insulation and GRP/aluminium cladding.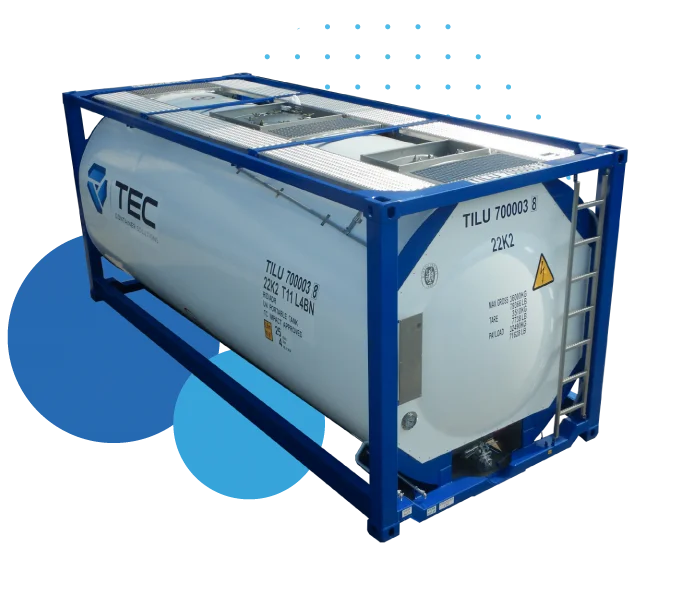 There are many advantages to using ISO tanks for bulk liquid transport including:
High carrying capacity and no need for product transfer.
Secure containment of the product rated for hazardous cargo.
Range of designs and classifications for different products.
Long lifespan and can be refurbished and recycled.
What liquids can ISO tanks carry?
ISO tanks have been developed to carry a whole range of hazardous and non-hazardous products, some examples include:
There are a variety of tank features available to ensure the safe handling of different products. Please get in touch to discuss your product-specific requirements.
Can ISO tanks be used for bitumen?
Standard ISO tanks should not be used for bitumen as they are only rated to 130°C and do not have the necessary heating systems to bring the product back up to temperature after cooling. Furthermore, standard ISO frame tanks are not designed for the level of expansion that occurs at high temperatures in bitumen use, which causes excess expansion and contraction stresses after frequent cooling and heating.
The Bitutainer™ range has been specifically designed for the transportation of bitumen and is the market leading product in this area.